Realtor Claus
Why do we take our infants and toddlers to see Santa Claus? More to the point, why do we put them on Santa's lap and then "get out of the picture?" I did this to my 17-month-old daughter today and as I'm standing out of the "shot" trying to make her smile--or, more accurately, stop crying--I'm thinking, "She won't remember this...She is clearly not enjoying this...I would never put her on the lap of any stranger NOT dressed in a Santa suit. So, why am I doing this?"
The reason is really very simple: posterity. We want the picture. Since my daughter won't remember the event, she won't remember being unhappy about it and we will have this wonderful moment--the one where the genius photographer found her almost looking happy about the situation--captured in time.
How is this related to real estate? Well, I'm glad you asked. Realtors, it turns out, are a little bit like Santa Claus. The one at the mall anyway. Consider the importance of buying or selling your home and it seems strange to put so much faith in a person whom, most likely, you barely know. You hope to get a wonderful picture of your child on Santa's lap but you really have no control once you step out of the shot. Likewise, you hope your realtor will represent you to the best possible degree but, again, there is a certain feeling of a lack of control.
The beauty of dealing with a realtor versus watching mall Santa with your pride and joy on his lap is that you actually DO have almost complete control. No contract is complete without your signature on the proverbial dotted line. That is encouraging considering the length of time that elapses during a real estate transaction as opposed to the 60 to 90 seconds the man in the red suit holds your child. This also means you have the time, right and responsibility to select and get to know your realtor before hiring them. This is generally not true with St. Nick. You take the guy hired by the mall or you don't.
I was lucky today. Santa was a good Santa and my daughter gave us a tepid smile, but a smile nonetheless. Great picture! Don't depend on similar luck when choosing your realtor. Take the time to get to know your agent. As a realtor, that's usually my favorite part of the process anyway.
Jeff Dehmlow is your real estate caddy! Call Jeff--or text him--at 612-803-7060.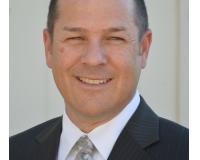 Author:
Jeff Dehmlow
Phone:
612-803-7060
Dated:
December 14th 2014
Views:
652
About Jeff: ...